For many years, the award-winning DVD guitar program, Gibson's Learn and Master Guitar has been teaching guitar to thousands upon thousands of people all over the world from the comfort of their own home.
This learn-at-home package includes 20 professionally-produced DVDs (shot in crystal-clear Hi-Def), 5 Jam-Along CDs, a 107-page lesson book, all packaged in it's signature carrying case. Owning the course also grants guitar students free access to a membership community/forum where they'll find additional learning material and exercises. They can also get help or receive feedback from fellow guitar players and teachers, including the course instructor.


Learn and Master Guitar Coupon Available!
OFFER DETAILS: Right now, Gibson's Learn and Master Guitar is currently holding their Spring Sale, where you can SAVE $100 OFF on their Learn and Master Guitar course!
Expiry Date: Unknown Coupon Status: Verified and Working
From beginners to intermediates, Gibson's Learn and Master Guitar is a great learning tool for a wide audience. Though it is most effective for those who are just beginning to play guitar, even more experienced guitarists can get a lot out of it when used as a refresher course. Learn and Master Guitar works relatively well for the kids too. To that point, a homeschool version of Learn and Master Guitar was just recently released. It contains all the same material as the regular course, but adds a teacher's guide with a 2-year curriculum outline, as well as a 2 DVDs of teacher's material. This is perfect for homeschoolers as it gives more structure to the guitar-learning process and enables the kids's parents to assist their child, even if they don't know how to play guitar themselves.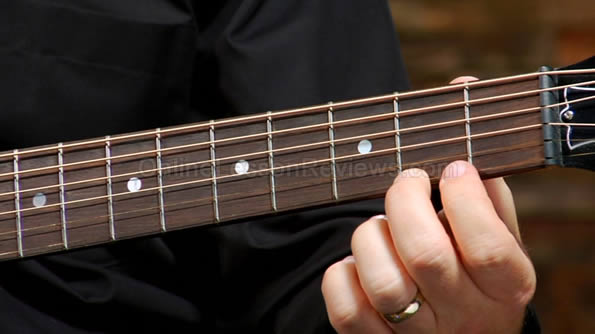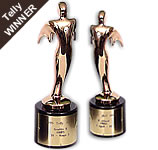 Learn and Master Guitar is a winner of 2 Telly Awards and an AEGIS Award for Excellence in Education.
Learn and Master Guitar's lessons build upon each other in a linear and logical progression so you never feel lost or "over your head". Unlike some other music courses, you aren't required to have any previous musical knowledge or experience, which makes the learning process much smoother. An obvious benefit of the DVD lesson format is that you are free to learn at your own pace and go as slow or as fast as you wish. The downside is that less people are consuming physical media, and are moving to streaming or downloadable lessons.
An essential part of any "live" video guitar training is the actual instructor doing the teaching. This is an area where Learn and Master Guitar really shines. The course is taught by accomplished guitarist, Steve Krenz. Steve is a highly trained musician with a natural gift for teaching. He has a friendly and personable manner which makes for very enjoyable lessons. Steve Krenz also possesses a remarkable résumé. He holds a degree in music and has an enormous amount of experience playing professionally, from performing alongside platinum-selling artists, to playing in orchestras, to teaching guitar workshops in the USA and around the world.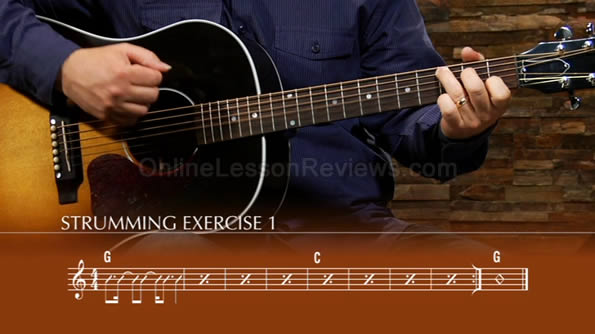 Features
Unlike a lot of guitar-learning products reviewed on this site, Learn and Master Guitar is not a downloadable product, but is actually shipped to your door. Below we'll explain the different parts that make up this course.
Of all the DVD lessons reviewed on this site, Learn and Master Guitar is simply the most effective, comprehensive and well-produced guitar course we've come across. All of this combines to make Gibson's Learn and Master Guitar our #1 pick for DVD guitar lessons.
The DVDs:
Each session is divided into different segments. Usually, the sessions follow a general format of: Instruction, Guitar Tips and Tricks, Student Assignment, and a Workshop to put everything together.
The technical aspects of Learn and Master Guitar are well done. The lessons are shot in HD (high definition), and are not region encoded, and therefore will play on virtually any DVD player in the world. The DVD menus are easy to navigate, and let you jump to the different sections on the DVDs.
The camera-work is also very good, as they show lots of hand close-ups and occasionally switch to dual-camera view so that you can see exactly what Steve is doing with both hands. Music notation and tablature is shown on screen to help you follow along.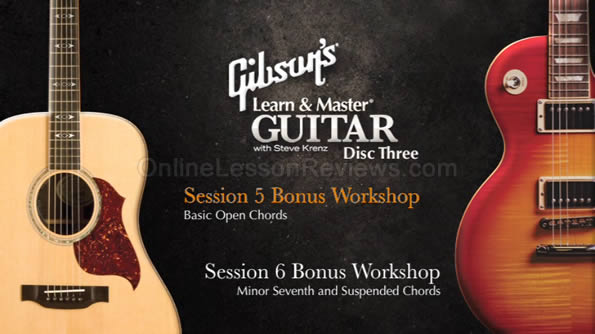 The Lesson Book:
The same on-screen notation is also shown in the companion lesson book that is included with the course. This is great as it allows you to work through the lessons and exercises independent of the DVDs or when you don't feel like sitting in front of a computer or TV. Printing quality is excellent and the book is well organized and laid out.
The Jam-Along CDs:
One of the most enjoyable learning tools included with Learn and Master Guitar is the 5 Jam-Along CDs. These jam tracks aren't just some cheap computer-generated MIDI files or generic sound bites, but professional, studio-recorded songs for you to play along with. The producers at Legacy Learning Systems spared no expense to make these Jam-Along CDs the best they could be. Some of the talent hired to accompany on the CDs are Dino Pastin (Keyboard player for Alabama and Barbara Mandrell), Javier Solis (Drummer and percussionist for Usher, Kenny Loggins, Faith Hill Jaci Velasquez…), Abel Orta (Bass player for Jaci Velasquez and Promise Keepers, and a major Nashville session player), as well as Steve Krenz, the instructor of the course. The beginner jam-along tracks come in different speeds (slow, medium, and fast) so that you can still play them even when you're just beginning to take your first slow strums on your guitar. Another neat feature is that when you're ready to go solo with the band, you can do so just by adjusting the balance in the speakers. (This was done so you don't need to play separate tracks with and without the guitar parts) They have some audio samples of some of the jam-along tracks up on their site, so we encourage you to check them out!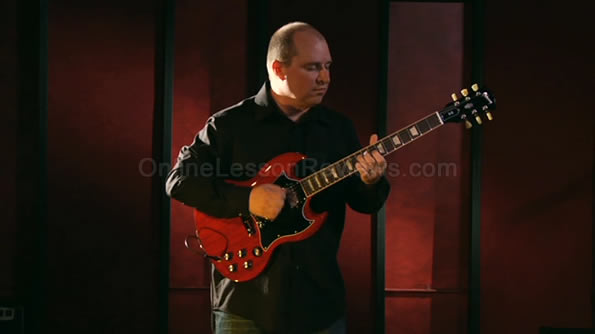 Genres Covered:
Some of the genres that Learn and Master Guitar covers are acoustic guitar, electric guitar, rock guitar, finger-style, blues, country, jazz, funk and more… Note that Learn and Master Guitar doesn't cover all these styles exhaustively, but does give you a good feeling for the genres so that you can hone in on your preferred styles later on.
Update: A few months ago, Legacy Learning Systems released Learn and Master Blues Guitar, a mini-course in their Spotlight Series that is dedicated to teaching Blues. We haven't had the opportunity to review this course yet, but since it's also taught by Steve Krenz, we're fairly sure it's decent.
Legacy Learning Systems Spotlight Series Courses:
Support
When we placed our order for Learn and Master Guitar, we found the ordering process simple and straightforward, and our order shipped promptly and arrived within a matter of days.
If you ever have to contact Legacy Learning Systems, they have live chat, a phone number plus additional contact information available on their website. When we called them, we were easily able to get a live person on the other end of the line to help us with our questions.
Their membership community is also a fantastic support option. You can ask any questions you may have about the guitar course, or explain different problems you're having and someone (possibly Steve Krenz himself!) will generally respond with an answer.
Ordering Information
Learn and Master Guitar is available from Legacy Learning System's website. Placing an order is straightforward, and you don't need to register to checkout. All major credit cards are accepted as well as PayPal.
All purchases made from Legacy Learning System's website is backed by their 60-Day "Total Satisfaction Guarantee", which means that should you buy the course, and aren't satisfied for any reason, you can simply return it for a no-questions-asked, no-hassle refund.
If you are an international student, don't worry - Learn and Master Guitar ships worldwide, although shipping will be extra. You will get the same support and money-back guarantee as their North American Customers. The DVDs can also be played on any DVD player in the world thanks to the region-free encoding.
Video
Video of Gibson's Learn & Master Guitar curriculum.
Conclusion
Of all the DVD lessons reviewed on this site, Learn and Master Guitar is simply the most effective, comprehensive and well-produced guitar course we've come across. All of this combines to make Gibson's Learn and Master Guitar our #1 choice for DVD guitar lessons.