Founded in the late 1990's, Guitar Tricks is one of the oldest and largest guitar learning sites on the internet. They currently have a library of over 8000 video guitar lessons (with more coming out every week) from 45 guitar teachers with experience in all the major genres and styles of guitar.
As of this writing, GuitarTricks.com has a free 14-day trial membership available which grants full access to their massive video guitar lesson library. For those new to online video lessons, this is an excellent way to see how you like them.
A GuitarTricks.com membership is a good option for beginners, though many of the lessons are for intermediate to advanced guitarists as well. Regardless of skill level, guitarists are sure to find plenty of lessons to keep them busy. One of Guitar Trick's greatest advantages of GuitarTricks.com is that they are one of the few websites that offer licensed song lessons from artists such as the Beatles, Jimi Hendrix, 3 Doors Down, Five for Fighting, Nirvana, and KISS amongst others. In fact, they currently have approximately 500 licensed songs, which is twice as many as their competition.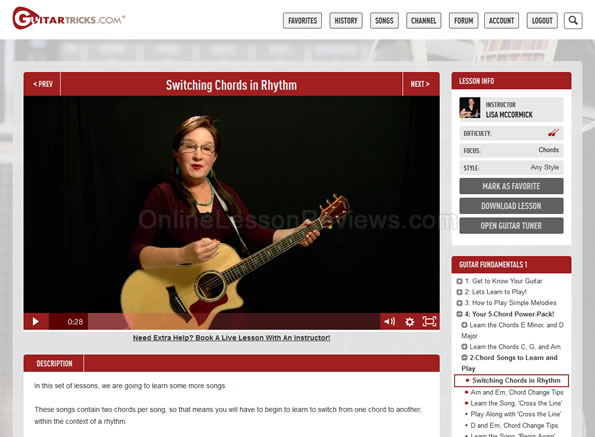 Features
How the Course is Organized:
Guitar Tricks' lessons are grouped together to form many different learning paths.
For instance, if you are new to guitar, you'll probably want to go through their "Core Learning System" course. If you are interested in learning a particular genre (Blues, Rock, Jazz...) or a particular technique (Fingerpicking, Hammer-Ons, Sweep-picking...) you can do that as well. These "mini-courses" are often taught by several different instructors, not just one. While the lessons tend to be on the shorter side, there are quite a few of them!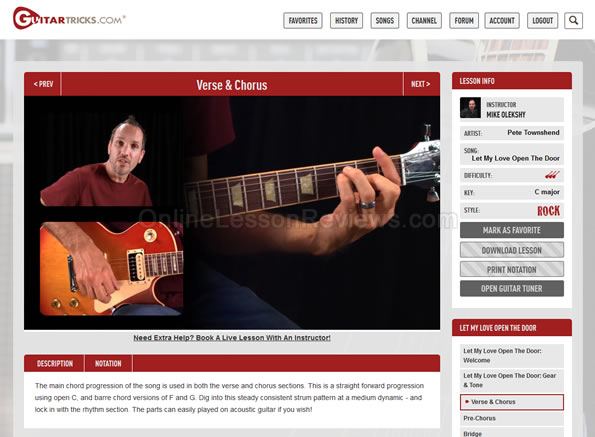 Many of the lessons include supplemental material like lesson transcripts and tablature, which are accessible without having to leave the lesson area, a great feature. We really appreciated the ability to view all related lesson information in one place. Lessons in their beginner core learning system also include on-screen notation.
Guitar Tricks' online lessons are shot with 3 hi-definition cameras in MP4 video format, which means that you can watch them on your computer as well as on your mobile devices. One cool thing about Guitar Tricks is that they not only allow you to watch the lessons online from anywhere you want, but you can also download them to your computer at no additional cost (licensed song lessons aren't available for download). This unique feature of GuitarTricks.com allows you to take the lessons with you on the fly, say, on your laptop, even when you don't have internet access.
With an exceptional price-point and plenty of good-quality guitar lessons to get you going on your guitar-learning journey, Guitar Tricks is definitely worth a look. Just be prepared to spend a little extra time finding the lessons you want to take.
Video guitar lessons are available in both high and low resolutions. Buyer's Tip: If you lack a hi-speed internet connection, we recommend that you avoid online video-streaming guitar sites in general, as we're pretty sure you don't want to spend all of your practice time waiting for your lessons to download. If you find yourself without hi-speed internet, your absolute best bet would be to pick up Gibson's Learn and Master Guitar, which is our #1 pick for DVD guitar lessons.
Audio and video quality varies from instructor to instructor, but is generally quite good. Most lessons are filmed with multiple angles, which is a great learning feature. It's worth nothing that while the majority of lessons that Guitar Tricks has released have great audio and video quality, a smaller portion of their older content isn't quite as polished.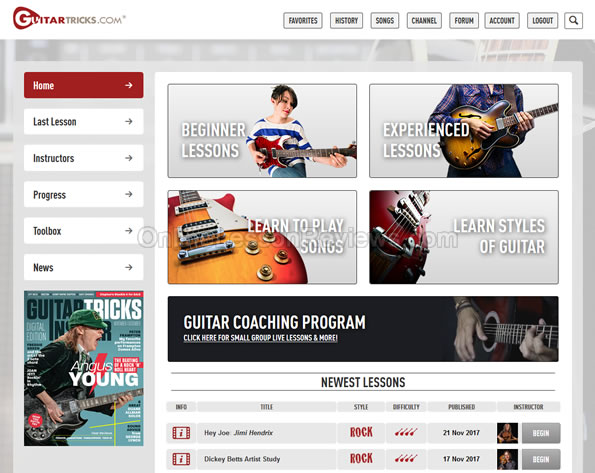 Extras:
Guitar Tricks provides several useful online and downloadable tools to help you play guitar better. This includes an incredibly useful chord finder and scale finder, a JamStation which plays high-quality jam tracks, a guitar tuner, as well as an advanced metronome. All extra software is well-developed and effective.
Buyer's Tip: The metronome that Guitar Tricks offers as a free download to its full access members used to sell separately on UltimateMetronome.com for $20. Yet another great reason to give GuitarTricks.com a try!
Support
If you need help with your membership, Guitar Tricks has both email and toll-free phone support available.
If you need help with your guitar playing, you can post your questions in their public guitar forum. Full-access members have the additional option of asking questions directly to some of Guitar Tricks' teachers. Their community is very active and you won't have to wait long for a response.
Ordering Information
Compared to other online lesson sites, Guitar Tricks' monthly membership is a steal at $14.95. You can save an additional $25.00 or so by purchasing a one-year membership, but you may want to try it out for at least a month beforehand. You can order using a credit card, PayPal or even by check if you prefer.
We discovered that Guitar Tricks does have a refund policy in place where if you aren't satisfied with your membership for any reason, you can contact them within a 60-day period to get your money-back.
Conclusion
With an exceptional price-point and plenty of good quality guitar lessons to get you going on your guitar-learning journey, Guitar Tricks is definitely worth a look. Recommended.