Jamplay Bass Review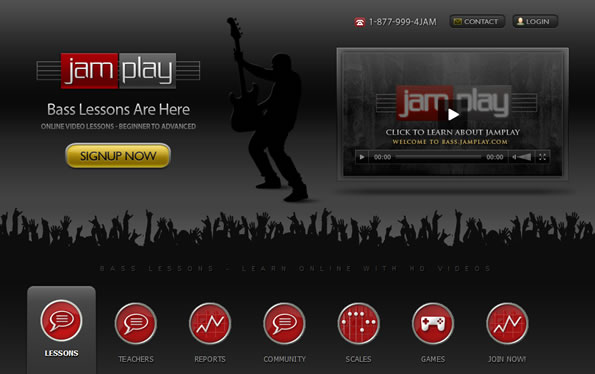 Already the web's leading guitar instructional website, Jamplay launched their bass guitar product in early 2013.
Jamplay Bass employs most of the same technology as their Jamplay Guitar website. If you want to read our in-depth review of Jamplay guitar instead, you can find it here.
Who Is Jamplay Bass For?
A Jamplay Bass membership is best suited for those new to the instrument as many of the lessons are geared towards beginners. That will likely change however, as more and more lessons are added to the site.
Who Does the Teaching?
When Jamplay put together its team of instructors, they certainly didn't cut any corners. Taking lessons from musicians of this caliber would be impossibly expensive were it not for the internet and the service Jamplay provides. Half of the instructors Jamplay chose to teach bass guitar have their own Wikipedia page. They include David Ellefson (Megadeth), Robbie Merril (Godsmack), and Evan Brewer (The Faceless). Not only are the instructors world-famous musicians, they are excellent instructors. It's worth a mention, since skill doesn't always teach well.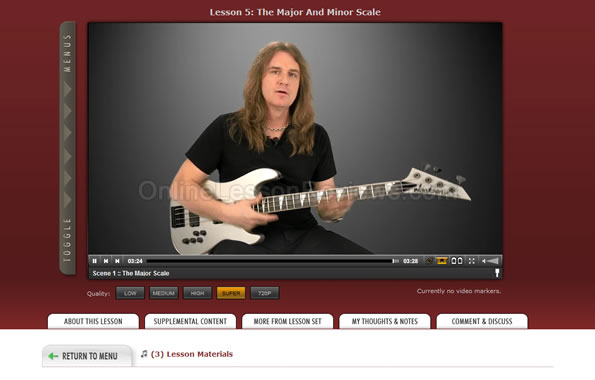 What Is Taught?
The lessons are sorted into the four following categories:
Phase 1: Beginner Lessons

Phase 2: Skills and Genres

Phase 3: Songs

Artist Series
Beginners - Beginner lessons make up a significant portion of the content with over 28 hours of material. There are many beginner "tracks" available, each taught by a different instructor. This is a great approach to learning a new instrument since everyone learns a little differently. If a concept taught by one instructor doesn't make sense to you, you can try learning it from another instructor who may have a different way of presenting the topic. These lessons cover topics such as right and left hand technique, tuning, scales, progressions, hammer-ons, pull-offs, and practical music theory.
Skills and genres – This section of the site is intended for intermediate bassists, and teaches skill and genre based lessons.
Songs – Here you get the chance to put together the skills you've (hopefully) mastered in phase 1 & 2, and learn some licensed songs from bona fide bands. The current selection is small, and limited mostly to rock/metal, but is a growing feature on the site.
Considering Jamplay's proven ability to create top-notch educational content, their foray into the bass guitar lesson market virtually ensures they will be a top destination for bass guitar students for many years.
Artist series – Many artists have a bag of tricks or techniques they use to make their playing sound better and more unique. In this section, you can learn advanced bass playing techniques such as tapping, harmonics, bending, gig tips, soloing – even songwriting!
Bass lessons are usually added on a weekly basis. Members have the option to sign up for email notification when new lessons are posted.
Extra Tools and Features:
Live Chat – Instantly communicate with your fellow students and instructors. Get feedback on your playing or ask for help.
Scale library – See virtually any scale represented on a 4, 5, or 6 string bass.
Metronome – Solid metronome with basic features.
Bass Tuner –Tune by ear or by using your PC's microphone/line-in connection.
Backing Tracks - Over 700 free backing tracks to jam to. These tracks can be streamed or downloaded at your convenience.
Games – Fretboard memorization, music notation quizzer, note identification, and pitch recognition. Great learning tools and fantastic implementation.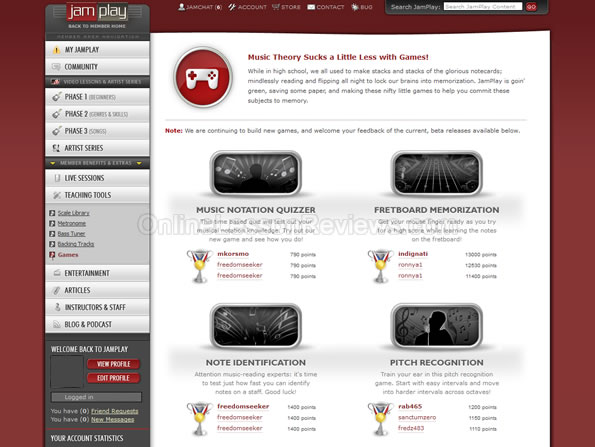 Lesson Features:
Jamplay has 1000s of hours of experience filming video guitar lessons. Put simply, we haven't seen anyone do video better than them. Video and audio quality is superb. Videos are fully viewable on the iOS platform. Other features include A/B looping, bookmarks, student/instructor views, and the ability to select your video resolution from mobile quality to 720p hi-def video.
For the student's convenience, there's a built-in metronome in all lesson pages. Supplemental material like sheet music, PDFs, and Guitar Pro files are all available without leaving the lesson page as well. Students can also write notes and leave comments for the instructor.
A couple improvements we are hoping for are (1 indications that a video has been previously watched, (2 notes that automatically save, and (3 easy access to all notes written without revisiting the lesson.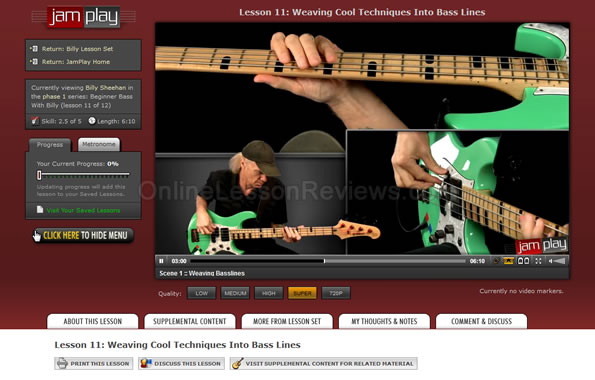 Ordering Information:
Buyer's Tip: A Jamplay Bass membership does not include access to the regular Jamplay lessons. However, if you have a Jamplay Bass membership and want to learn guitar as well, you can purchase an add-on guitar membership at highly reduced rates. (50% off 1st month, 40% off 1st quarter, or 28% off for a year)
Jamplay guarantees that if their customers aren't satisfied with their membership, they can apply for a 100% refund within 7 days of signing up.
Conclusion:
Considering Jamplay's proven ability to create top-notch educational content, their foray into the bass guitar lesson market virtually ensures they will be a top destination for bass guitar students for many years.
As the bass section of their website is still new, there is plenty of room for improvement. However, they already have a fantastic lineup of bass instructors with plenty of high-quality lessons to get you grooving on the bass. Recommended.
Official Jamplay Bass Website
Disclaimer Notice: In the interest of full disclosure, we acknowledge that we accept review copies of all products we review and receive commission on some, but not all products we rate on this site. Please be assured that we do not let this interfere with our editorial process. As an independently-owned product review website, we take great pride in providing honest, accurate, and useful information about all products and services discussed in our reviews.
We never have nor ever will accept paid reviews and strive to maintain an objective perspective at all times. Lastly, we have no personal interest in any of the products we review, nor are we owned by any company whose products appear on this site. Thanks for reading!