Founded in the late 1990's, Guitar Tricks is one of the oldest and largest guitar learning sites on the internet. They currently have a library of over 11,000 video guitar lessons (with more coming out every week) from 33 guitar teachers with experience in all the major genres and styles of guitar.
As of this writing, GuitarTricks.com has a free 14-day trial membership available which grants full access to their massive video guitar lesson library. For those new to online video lessons, this is an excellent way to see how you like them.
A GuitarTricks.com membership is a good option for beginners, though many of the lessons are for intermediate to advanced guitarists as well. Regardless of skill level, guitarists are sure to find plenty of lessons to keep them busy. One of Guitar Trick's biggest advantages is that they are one of the few websites that offer a large variety of licensed song lessons from artists such as the Beatles, Jimi Hendrix, Maroon 5, 3 Doors Down, Nickelback, Nirvana, and KISS amongst others. In fact, they currently have over 900 licensed songs, which completely dwarfs their competition.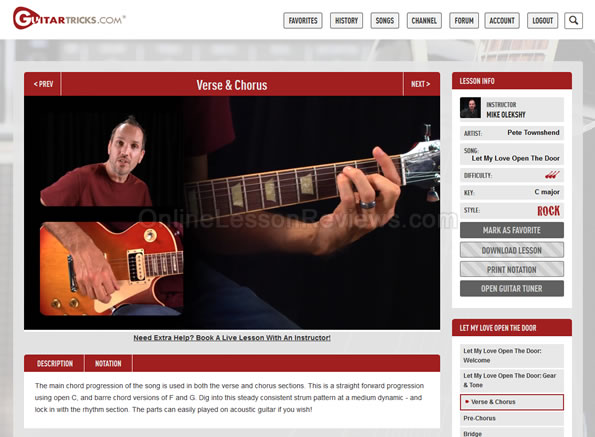 Features
How the Course is Organized:
Guitar Tricks' lesson sets are given structure with their Core Learning System™. This system is a learning path with lessons that cover all the important fundamentals before branching out into more advanced skills and genre playing. As you advance through even the early lessons, you'll get shown what songs you can tackle with the skills you've acquired so far. Your lesson progress is tracked, so you can easily pick up where you left off. Overall, we found the system well-formed and easy to follow.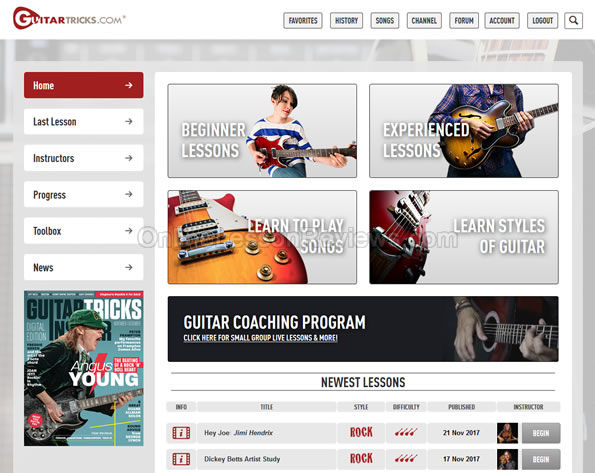 Many of the lessons include supplemental material like lesson transcripts and tablature, which are accessible without having to leave the lesson area. We really appreciated the ability to view all related lesson information in one place. Lessons in their beginner core learning system also include on-screen notation.
Guitar Tricks' online lessons are shot with multiple hi-definition cameras in MP4 video format, which means that you can watch them on your computer as well as on your mobile devices. One neat feature of Guitar Tricks is that they not only allow you to watch the lessons online from anywhere you want, but you can also download them to your computer at no additional cost (licensed song lessons aren't available for download). This unique feature of GuitarTricks.com allows you to take the lessons with you on the fly, say, on your laptop, even when you don't have internet access. The video player also supports A-B looping.
With an exceptional price-point and plenty of good-quality guitar lessons to get you going on your guitar-learning journey, Guitar Tricks is definitely worth a look.
Video guitar lessons are available in both high and low resolutions, with newly produced content being shot in 4K. Buyer's Tip: If you lack a hi-speed internet connection, we recommend that you avoid online video-streaming guitar sites in general, as we're pretty sure you don't want to spend all of your practice time waiting for your lessons to download. If you find yourself without hi-speed internet, your absolute best bet would be to pick up Gibson's Learn and Master Guitar, which is our #1 pick for DVD guitar lessons.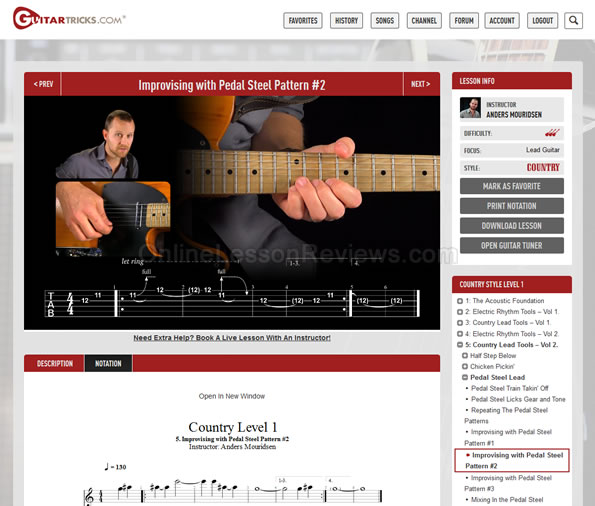 Extras:
Guitar Tricks provides several useful online tools to help you play guitar better. These include an incredibly useful chord and scale finder, a JamStation which contains many high-quality jam tracks, a guitar tuner, an advanced metronome, and more. All extra software is well-developed and effective.
Free apps are available for both Android and iOS. We tested their Android app and can easily say that it is the best-designed companion app of all the guitar learning services we've reviewed. It ran smoothly and had a high level of functionality and ease-of-use.
Support
If you need help with your membership, Guitar Tricks has both email and toll-free phone support available.
If you need help with your guitar playing, you can post your questions in their public guitar forum. Full-access members have the additional option of asking questions directly to some of Guitar Tricks' teachers. Their community is very active and you shouldn't have to wait long for a response.
Guitar Tricks now offers their members guitar coaching add-ons if they want more personalized learning experience.
Ordering Information
Compared to other online lesson sites, Guitar Tricks' monthly membership has good value at $19.95. You can save even more by purchasing a one-year membership, but there's really no reason to try it out before committing.
If you find you aren't able to make good use of your membership, Guitar Tricks has a 60-day full money-back guarantee, which is the most consumer-friendly refund policy of all the online lesson sites we've reviewed.
Conclusion
Guitar Tricks is the leading learning site when it comes to teaching licensed songs. If that is important to you, Guitar Tricks is the best option available today. With an exceptional price-point and plenty of good quality guitar lessons to get you going on your guitar-learning journey, Guitar Tricks is definitely worth a look. Recommended.
Disclaimer Notice: In the interest of full disclosure, we acknowledge that we accept review copies of all products we review and receive commission on some, but not all products we rate on this site. Please be assured that we do not let this interfere with our editorial process. As an independently-owned product review website, we take great pride in providing honest, accurate, and useful information about all products and services discussed in our reviews.
We never have nor ever will accept paid reviews and strive to maintain an objective perspective at all times. Lastly, we have no personal interest in any of the products we review, nor are we owned by any company whose products appear on this site. Thanks for reading!