EarMaster Pro 5 Review

Musicians looking for a simple, yet powerful way to develop their musical ear may have found a new friend in EarMaster 5. EarMaster is computer software that focuses on training and developing the student's ear using a wide range of exercises. The software is easy to use, intuitive, and highly customizable. It is also well-regarded in the music community, as it's used in many universities and schools across the country.
Musicians of all types, whether novice or advanced, stand to benefit from using this software. Many of the exercises are even suitable for teaching younger students essential musical concepts such as intervals and song rhythm. Consumers should be aware that some knowledge of music theory is necessary to fully take advantage of this software, but hey... you're musicians, right? Of course you know that stuff!
EarMaster comes in three flavors: Essential, Professional, and School. This review pertains to the professional version.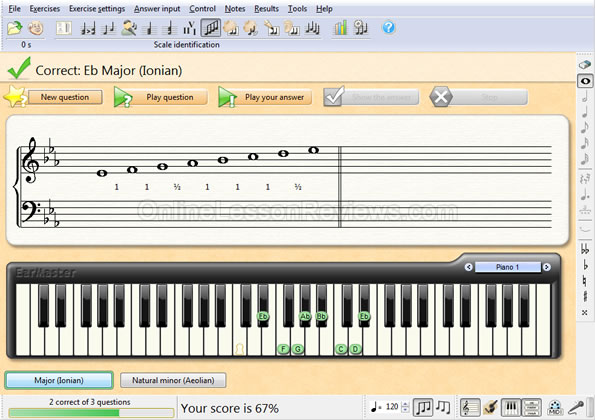 Features
EarMaster 5 is all about the exercises. In the pro version, there are 12 different types of exercises and 661 lessons included. Each lesson builds upon earlier lessons and gradually ramps up the degree of difficulty. The exercises primarily focus on several learning areas: intervals, chords, scales, and rhythm. It's worth noting that 221 of the lessons are intended for jazz musicians and cover jazz rhythms and chords.
Here is the exercise list:

| | |
| --- | --- |
| Exercise | Description |
| Interval Comparison | Learn to recognize which of two intervals is larger. |
| Interval Identification | Identify an interval by name or by transcribing the tones. |
| Interval Singing | Sing or play specific intervals. |
| Chord Identification | Learn to identify chords by name or by playing the notes. |
| Chord Inversions | Learn to identify chords inversions. |
| Chord Progressions | Recognize and identify common chord progerssions by name. |
| Scale Identifications | Play or name various musical scales. |
| Rhythm Reading | Clap or play along with on-screen notation to improve your sight-reading and timing skills. |
| Rhythm Imitation | Listen to a rhythm and repeat it as accurately as possible. |
| Rhythm Dictation | Learn to transcribe rhythm values using the on-screen staff. |
| Rhythm Correction | Listen to a rhythm and spot the differences from the displayed notation. |
| Melodic Dictation | An advanced exercise that gives you practice transcribing melodies. |
All lesson answers can be entered using your keyboard or mouse, but many exercises allow you to clap, sing, or even play your answers using a microphone or MIDI device. We definitely recommend that you get your hands on a decent microphone as it allows for a more engaging learning experience. Tip: If you have a webcam, you can use the built-in microphone. No need to purchase extra hardware.
EarMaster features a range of customizable exercises, an attractive yet powerful interface while remaining easy to use, which makes it our go-to product for ear training.
The EarMaster interface is very clean and easy to navigate. It is also highly customizable. If you are a guitarist, bass player or violinist, you can choose to play your answers using the on-screen instrument and tuning of your choice. Left-handed? No problem, there's an option for that too. If you don't like the sound of the default piano notes, there are another 127 sounds to choose from. You can add your own chords, scales, and even change the musical terms used in the program. When it comes to the actual exercises, you can tailor the lessons to include whatever chords, scales, or intervals you want to learn.
Your progress is tracked using in-depth statistics, that show not only your scores, but also how long you took taking the tests and average answer times. A quick peek can also identify specific areas you need to work on. Multiple users can track their progress on the same computer using multiple Windows or OSX user accounts.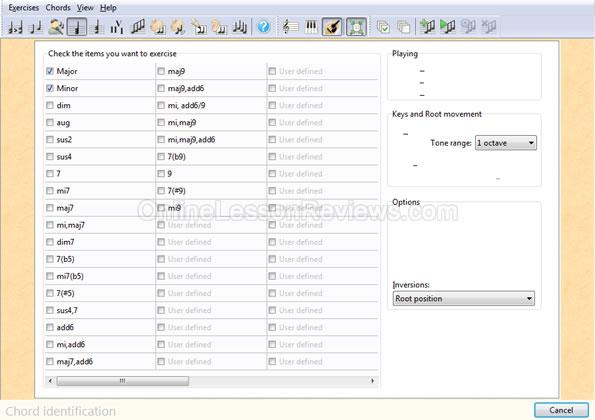 I did experience a couple technical issues while trying the rhythm and singing exercises. While going through the rhythm exercises, I found the timing of my claps was consistently late on the screen. After poking around the help file, I found there is a setting you can change to manually fix the discrepancy. It took a bit of messing around, but once I got it right, it worked quite well. On the same note (pun intended), I had to increase the microphone sensitivity much higher than the default program setting in order for it to recognize my voice during the singing exercises.
While music theory lessons are largely missing from the EarMaster program, they do have several short music theory articles in their help pages which explain some of the terms and better demonstrate what some of the exercises are about. Unless you are a relatively advanced musician, chances are you will have at least a couple questions regarding many of the terms and exercises.  We recommend that you look up unfamiliar music terms as they come up, or if you want an inexpensive, yet comprehensive crash course on music theory, check out Alfred's Essentials of Music Theory for around $10 on Amazon.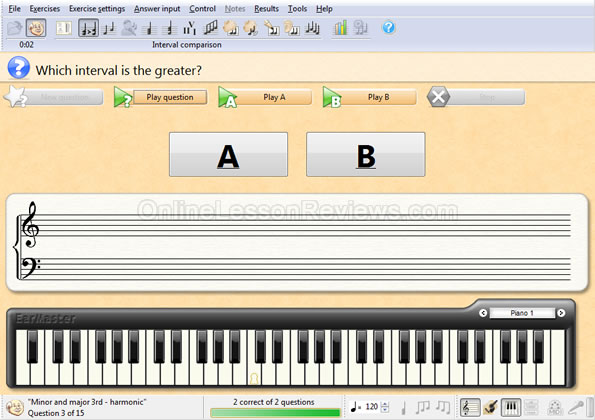 Differences between the Essential, Pro, and School editions
For most people, we think that EarMaster Pro is the best choice. For half the price, you can purchase EarMaster Essential, but you only receive a 1/4 of the exercises and total lessons.
| | |
| --- | --- |
| EarMaster Essentials | EarMaster Professional |
| 4 Exercise Types | 12 Exercise Types |
| 139 Lessons | 661 Lessons |
The School version adds further functionality to the Pro edition, with the ability to monitor students results, manage classes, and gives more advanced tools to create highly customizable lessons for your students.
Support
EarMaster has a very active presence on their support forum. We noted that virtually all of their customer's support inquiries were responded to and resolved quickly. French and Spanish customers will be glad to hear that they also have support forums in their native language.
Other contact options such as email and phone are listed on their website. Keep in mind the developers are located in Denmark so you may have to wait a little longer to receive a reply.
Ordering Information
If your curiosity is piqued, and you want to find out if EarMaster 5 is something you can benefit from, you can download a free, fully-functioning copy of the software to try out for 7 days from their website. To use the program beyond the week, you'll have to purchase a license, plug in your serial number and then you'll be good to go.
The software was designed for both Windows and Mac operating systems. The license/serial you receive after purchase is platform independent and will work on either a Windows or Mac machine.
There is no refund policy advertised on EarMaster.com, as you're purchasing a serial number, and will have had a week to evaluate the software.
Pricing: $29.99 (Essential), $59.99 (Professional), from $129 (School). Payment methods include credit card, PayPal, check, bank transfer or Western Union.
Conclusion
While we wish EarMaster incorporated a more comprehensive in-program guide to musical theory, that's the worst that we can say about the program.The software delivers on its promises, and is wonderful tool for almost any musician.
EarMaster features a range of customizable exercises, an attractive yet powerful interface while remaining easy to use, which makes it our go-to product for ear training. Recommended.
Official EarMaster Pro 5 Website
Disclaimer Notice: In the interest of full disclosure, we acknowledge that we accept review copies of all products we review and receive commission on some, but not all products we rate on this site. Please be assured that we do not let this interfere with our editorial process. As an independently-owned product review website, we take great pride in providing honest, accurate, and useful information about all products and services discussed in our reviews.
We never have nor ever will accept paid reviews and strive to maintain an objective perspective at all times. Lastly, we have no personal interest in any of the products we review, nor are we owned by any company whose products appear on this site. Thanks for reading!