Railroad Media took everything they learned about producing DVD educational courses, and put it together to make the Drumming System their new flagship drum course. Of all the drum courses available on their store's main website, The Drumming System is Railroad Media's largest and most comprehensive drumming curriculum.
While the course works best with beginners, there's still a lot of content here that will appeal to intermediates and even some advanced drummers. From the most basic drumming instruction to advanced genre playing, the Drumming System can challenge drummers of all skill levels.
The physical breakdown of this massive course is as follows: 20 training DVDs, 15 play-along CDs, and 5 detailed training workbooks. This amounts to over 30 hours of video instruction in total with all the tools you'll need to gain mastery of the material presented. Note that this review pertains to the physical edition of the course, and not the online edition.
The first six DVDs are required viewing for beginners with such topics as proper foot and hand technique, how to practice on your drum kit, all you'll need to know about drumming notation, and 40 essential drumming rudiments. From there, the lessons move to stylistic playing, building up your speed, drum soloing, and working on your dynamics. DVDs 17-19 are play-along discs that feature over 100 songs that are shown both with the full band in "performance view" and an "educational view" that makes it easier to learn the songs.
About the Instructor:
Mike Michalkow is an enthusiastic and talented drum teacher. He comes across as personable and possesses a good sense of humor. Because his teaching style is quite casual and informal, the whole experience seemed much more comparable to having personal drum teacher than with other drum courses we've used. The course is basically his 20 years of experience with the drums compressed into 30 hours of video lessons.
Features
Video Lessons & Workbooks:
When it comes to how educational drumming videos are filmed, the Drumming System's approach is definitely the best we've seen. For example, when an exercise is being played, you get 4 split screen views with musical notation shown in the center of the screen with an indicator of where he's currently playing and an on-screen metronome.
All videos lessons were shot in HD. Other educational companies would do well in following Railroad Media's lead in shooting all their video courses in high-definition as it really is helpful for their students.
We give full marks to Railroad Media for their attention to detail and thoroughness in creating the web's most complete A-Z drum course around.
Mike takes a relaxed approach to teaching and implements a very gradual learning curve, which those that are completely new to music and the drums will appreciate. As Mike goes along, he mixes in an appropriate amount of humor and personal experiences that are relevant to the lessons he's teaching.
Occasionally I got a little lost listening to Mike explain how a particular drum pattern or rudiment was supposed to play. However, it always made perfect sense when I referenced the appropriate lesson material and sheet music in the workbooks, which is constantly being cross-referenced on screen in the DVDs.
The five coil binder workbooks are essential components of the course. They contain notation for all the exercises, rudiments, fills, and play along songs shown in the DVDs. You don't have to worry about constantly searching through the workbooks to find the appropriate music either, as the videos are great at pointing you to the exact page number of the correct workbook whenever necessary. There's also other supplemental lesson information within the workbooks such as the Practice Routine Generator which is a nice tool to have handy as it gives your practice time direction and purpose.
Play Along CDs:
An important part of the Drumming System is the 14 play along CDs that contains over 100 full-length original tracks. The high-quality songs are recorded with real instruments played by professional musicians (a couple tracks even include vocals). Initially I was a bit confused as there seemed to be duplicates of discs 1-7, but I found they have 2 versions of each disc (One with a built-in metronome track and one without). Neither version of the songs have drum accompaniment.
For ease of future access you may want to import the drum tracks using iTunes or some other media player. Most of the track's names include the time signature and the BPM (beats per minute) of that particular song which makes it easy to see what you're playing at a glance. It appears though that the tracks on the CDs that don't have the embedded metronome were mistakenly named as they all say "with metronome". No biggie, but you may want to rename the tracks after you import them to your computer.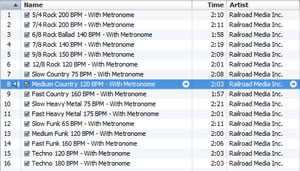 A separate CD we discovered at the bottom of one of the play along CD cases is basically a simple metronome track. There are 31 different tracks which all play at different speeds. The metronome has a good sound and works well for a stand-in metronome until you can get a real one at your local music store. Unfortunately, the names of the tracks showed up in our media player as "Track 1", "Track 2", etc. instead of showing the actual BPM the metronome tracks are playing at, which would have been a good idea.
Course Bonuses:
Start-up and resources guide - The startup guide provides an overview of the course and gives some suggested entry points for intermediate and advanced drummers. Mike also shares some of his personal listening recommendations and favorite brands and drumming resources.
1 personal session (may or may not be available when you read this review)
Unlimited drumming coaching (by phone or email)
Member support community (approximately 3000 members)
Drum buyer's guide DVD
One handed roll DVD (both DVDs sell on their website for $27 apiece)
Support
As mentioned in the bonuses above, a purchase of the Drumming System gives you access to an exclusive "private forum" that you'll find on the Railroad Media's drumming message boards. Here you can ask the producers of the course any question you may have as well as pick up tips, tricks and other free drumming resources.
As mentioned above in the bonus material, you can take advantage of the unlimited drumming coaching via phone or email as well as the free personalized video or audio evaluation from Railroad Media (limited time only).
Ordering Information
Payment options for Railroad Media products are plentiful and include Visa, MasterCard, American Express, as well as popular online payment method, PayPal. Shipping costs are not included in the course total and will run you $15 if you live within North America and $19 for international orders.
On their ordering page they typically present several upsell opportunities that may potentially interest you. These offers are only available on the ordering page so you may want to pay attention. Examples of the deals offered include knocking 30% off several of their specialized drumming courses such as the Jazz Drumming System, the Latin Drumming System, and the Drum Tuning System. We haven't reviewed these products as of yet.
Conclusion
Of all music courses that we've reviewed on OnlineLessonReviews.com, the Drumming System is one of the priciest at $297. It's no coincidence though that it's also the largest DVD course we've reviewed with 30 hours of great training that any drummer can benefit from.
We give full marks to Railroad Media for their attention to detail and thoroughness in creating the web's most complete A-Z drum course around. If you're a dedicated beginning drummer with a bit of cash, you can't make a better choice in a video drum course than Mike Michalkow's Drumming System.