Launched in 2007, Jamplay has quickly grown to become one of the biggest names in video guitar learning in the world. Currently, Jamplay contains over 1000 hours of high-definition video guitar lessons, with more being added every week. Jamplay employs over 80 different guitar instructors that each specialize in teaching different styles of guitar. This variety represents an enormous advantage that Jamplay holds over traditional guitar lessons where you learn from a single individual with a particular teaching style and limited stylistic exposure and experience.
Jamplay is a great choice for guitarist of all skill levels and interests, from the complete beginner to the advanced guitarist. It doesn't matter whether you're into fingerstyle, jazz, rock, or blues since all of these genres and many more are taught at Jamplay.com. It's worth mentioning here that Jamplay is appropriate for younger students and children.
To get an idea of the quality of lessons that Jamplay produces, we suggest that you take a look at several of the free guitar lessons that they have available on their site.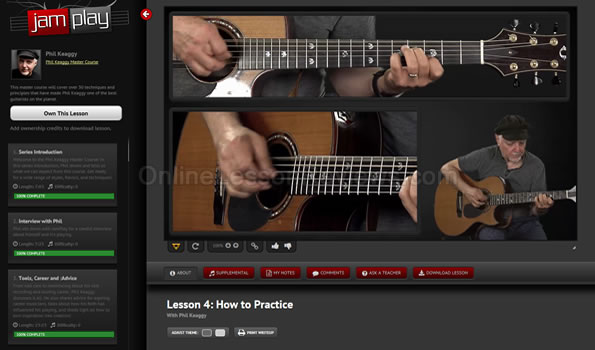 Features
How the Course is Organized:
With more than 1000 hours of video lessons currently on Jamplay, you might think that you'd have a difficult time finding the lessons you want to take. Fortunately, this is not the case, as Jamplay's member's area is easy to navigate, simple to use, and free of clutter.
The main course is divided into 4 phases: Beginners, Genres & Skills, Songs, and Songwriting.
For those who want to learn guitar in the style of famous shredders like Jimi Hendrix, Eric Clapton or the Rolling Stones, Jamplay has an "Artist Series" section where you can do just that.
Lesson Format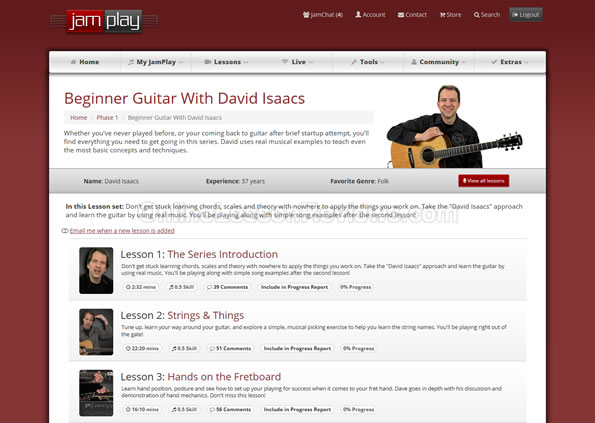 Jamplay's video lessons are delivered in HTML5 video format. Lessons are filmed in a studio with multiple high-definition cameras so that you can see what each hand is doing. Videos aren't downloadable without purchasing "ownership credits" which can be used on any lesson in order to access or download them even if you are no longer a member.
All of Jamplay's lessons have supplemental content and lesson tools which are available right from within the lesson page and can be accessed without interrupting the video. Tablature and notation are made available in multiple formats such as PDF, GIF and GPX (Guitar Pro). Even better than the standard sheet music however, is the addition of Soundslice to Jamplay's lessons. Soundslice basically works like the Guitar Pro software, but it works right from within the lesson!
If you are looking for a web-based guitar-playing program, you simply won't find a better one out there than Jamplay. End of story.
Other tools available within the interface include A-B looping, adjustable playback speed, and a progress bar that updates in real-time. If you want you can write your own notes, leave a question for the instructor, or add general comments on the lesson.
Jamplay's video can be streamed in several different resolutions to accomodate those with varying internet speeds. Lessons are logically divided into scenes which has the side-benefit of preventing the need to stream full 1-hour lessons at once.
Community
One of the pleasant surprises about Jamplay is their active community of guitar students from all over the world. Like other social websites, you can easily create your own online profile, upload pictures, interact with other Jamplay members, add friends, and participate in live chat with other Jamplay members 24/7.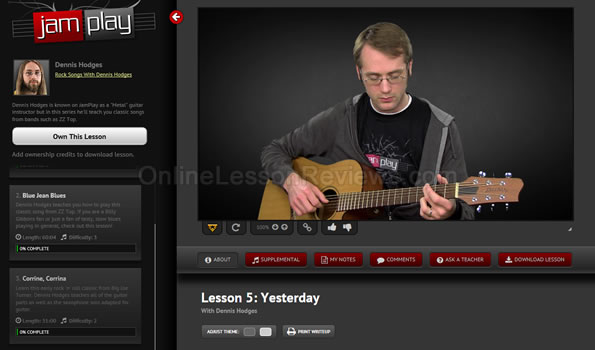 Extra Tools and Features
When learning a new instrument, it's a good idea to make yourself as comfortable in your surroundings as possible. This is usually not the case when you are huddled around a computer screen watching online lessons with a guitar on your lap. However, since Jamplay videos are delivered using HTML5, you can use most modern smart TVs to access the Jamplay website and watch the lessons on your big-screen without much difficulty. If that doesn't work for you, Jamplay has created free apps for Android, iOS, and Kindle which allows you to access much of the member's area content from your mobile device.
There are many extra features and professionally developed web-based tools to aid you in your guitar playing. You'll get a full-featured metronome, guitar tuner, high-quality backing tracks, chord library, scale library as well as lick and riff libraries. We were very impresed with the design and efficacy of these tools which need to be seen to be fully appreciated.
Another feature recently added to the site is the Jamplay Games section. Here you can take a break and play games that teach you fretboard memorization, note identification, pitch recognition and music notation. We found the games are well-designed and very effective learning tools.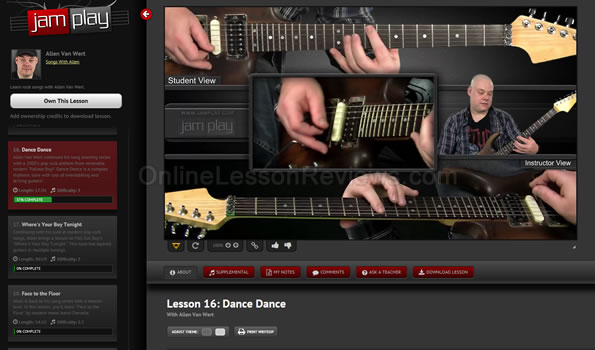 Support
If you ever need to talk to a live person at Jamplay, you have numerous options available to you. You can always contact Jamplay using phone, email, or drop into JamChat (Jamplay's always-on site chat feature) where you'll usually find at least one site admin that can assist you with whatever problems you're having. We can personally attest to Jamplay's first-class customer service.
Ordering Information
Jamplay comes with a 30-Day 100% money-back guarantee. If you aren't completely satisfied with your membership, you can contact Jamplay's customer service within 30 days of ordering, and you'll receive a full refund. When it comes time to cancel your membership, you can do so in two clicks from your account - no phone call required.
Right now, a Jamplay membership is selling for $19.95/mo. If you purchase a longer subscription however, the price drops significantly. Payment plans currently available are monthly at $19.95/mo., quarterly at $16.65/mo., and a yearly plan at only $13.33/mo. Definitely check if there are any discounts or coupons that Jamplay.com has available before purchasing. (If there are, they will be listed higher up on the right hand side of this page.)
Our recommendation is that you purchase a 1-month subscription to see what you think, then if you like what you see, you can upgrade to a longer subscription at the reduced price. Jamplay accepts all major credit cards as well as PayPal. With Jamplay, there is no commitment and you are free to cancel at any time.
Conclusion
If you are looking for a web-based guitar-playing program, you simply won't find a better one out there than Jamplay. End of story.
Jamplay is our #1 overall pick for guitar lessons!