Drumeo Edge (formerly Drumeo Live) is a completely online way to learn drums from a wide variety of professional drum instructors in a highly engaging and interactive way.
5 days a week, Drumeo broadcasts a brand new lesson which is streamed live to members. Students can interact with the teachers via live chat, submit questions, use the growing play-along library, get feedback and critiques of their playing, and much more.
Members have access to all previously aired lessons in the monstrous lesson library, filled with over 150 hour-long video lessons, many on topics that have been requested by the students themselves.
A big part of the Drumeo Edge is that you aren't just learning one instructor's methods and techniques, but instead gaining the collective wisdom and experience of a wide variety of professional drummers. Currently, there are 16 drummers on staff. Having that kind of drumming expertise close at hand while learning drums is invaluable, and can speed up your progress exponentially.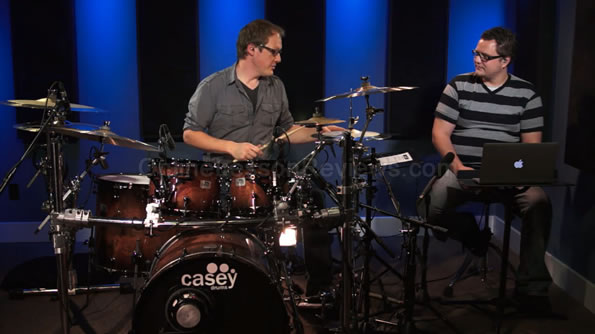 After playing with Drumeo for a good week or so, we found that Drumeo is the closest thing to real-life drum lessons that you'll ever find online. In fact, I'd argue that you get much better value for your money with Drumeo than with traditional face-to-face lessons.

Features
The Lessons
Overall, the entire member's area is clean and quite easy to navigate.
The heart of the course is the video lessons which generally run 1 hour long. They cover the full gamut of topics from how to play double bass, to building speed on the kit, to learning stick tricks and showmanship. If you want to see a new lesson on a certain topic, Drumeo has made it easy for members to submit their suggestions. All supplemental lesson resources such as sheet music and exercise MP3s are provided for download on the lesson pages.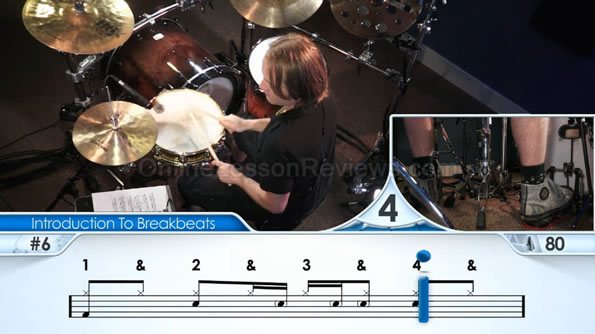 If you're wondering, the video, audio, and content quality of the lessons is tremendous. Each instructor brings a lot of pro drumming experience to the table and have many valuable insights to share. Most lessons are taught by at least two of the instructors on staff. One of the more frequent hosts is pro drummer Dave Atkinson (YUCA), who does an absolutely fantastic job of hosting the lessons.
The videos in the lesson library are presented in a long list with basic filtering options available. The lessons are numbered by air date, and are not intended to be watched sequentially. You probably wouldn't want to anyhow, as that would take many weeks of full-time viewing (not counting practice time of course).
...we found that Drumeo is the closest thing to real-life drum lessons that you'll ever find online.
The best way to navigate the mammoth lesson library is to select your skill level and find topics that are of interest to you. Without filtering, you can't easily tell which skill level a particular lesson is intended for.
Drumeo's video lessons are HTML 5 compatible and therefore work on most mobile devices. This is actually a big deal as it can make practice a lot more convenient if you can setup your iPad or comparable device on a music stand and start playing along without having to worry about getting your kit in front of the television... or the television in front of the kit.
Drumeo's live lesson schedule is published up to 6 weeks in advance so you can easily plan ahead if you want to be around for a specific live lesson. At a quick glance you can view the lesson topic, recommended skill level and primary instructor for any upcoming lesson. Of course, if you miss a live lesson, you can still view it in the lesson library only a couple hours after the lesson is finished.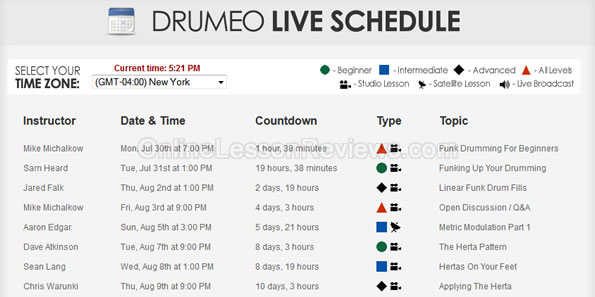 Live lessons are typically streamed anywhere from 10:00AM to 6:00PM local time (PST), which means that you should be able to watch many of the lessons live no matter where you live.
You can choose to get notified of upcoming live lessons using social media (Twitter, Facebook, or Google Plus). However, as someone who doesn't often use those services, it would have been nice to be able to opt-in for email notifications.
While the lesson is going on you can ask the instructors questions or just hang out with the other students. You can pop-out the chat, but can't hide it altogether, unless you watch in full-screen.
There currently isn't a way to mark which videos in the library have already been watched, and with some lesson titles being very similar, hopefully it's a feature that gets added soon.
With the exception of a half-dozen of the earliest lessons, all Drumeo Edge videos are filmed in brilliant HD and have crystal-clear sound. One cool feature is that you can quickly switch between HD and SD with a single click of a button without losing your place in the lesson.
Forums/Community
Sometimes with membership sites, the community aspect fails to gain much traction. Thankfully, this is not the case with Drumeo Edge. The community is very active in the forums and in the lesson chat. We found fellow-members very friendly, positive, and helpful.
Student Reviews
The student reviews feature allow members to submit a video of them playing to the instructors, who will critique the performance and give helpful tips and feedback to the student in a video reply.
Play Along Libarary
If you want some tunes to jam along to, Drumeo has you covered with their play-along library. There are more than 20 songs available so far and that number is growing. Most songs have a demonstration video and 3 downloadable MP3s (with clicktrack, without clicktrack, and with drums). You can also make song requests.
Extras
A Drumeo Edge membership has a few bonus perks, including some bonus lessons, and a "Tools and Resource" section which currently only contains a browser-based metronome (more resources are promised in the future).
Support
One thing that separates Drumeo Edge from other drumming products is the interactive nature of the program. From the interactive lessons, to the live Q & A sessions, to the member reviews, to the forum discussions, to lesson and play alongs requests, Drumeo encourages it's members to connect to the instructors in a personal way.
Ordering Information/Guarantee
Drumeo accepts orders online or by phone. If you have any questions about your order or membership access, you can call or email their support staff 7 days a week. As of this review, only monthly memberships are available online.
Keep in mind that all memberships include a 90-day risk-free guarantee. If you don't find Drumeo worth the money or even if you just don't have time to fully take advantage of the course, you can choose to receive a full refund.
Drumeo also has "add-on packs" available which are digital versions of previously released DVD courses. These include the highly-rated Drumming System, the Rock Drumming System, Bass Drum Secrets and more. The price of the digital versions can be significantly less expensive than the DVD editions. If you have previously purchased any of these lessons, you can get access to the digital copy of the course for free. All add-on packs are easily accessible right from within the member's area.
Conclusion
Drumeo Edge has several advantages over traditional drum lessons, but it's when you compare it with traditional lessons in terms of value that Drumeo wins big. Nowhere are you going to find a teacher who will give you 150 hours of lessons plus an additional 5 hours a week for $37 bucks a month.
Any serious drummer who desires a complete and highly-engaging learning experience will find Drumeo Edge the best choice out there. Drumeo has our whole-hearted recommendation and is our #1 pick for learning drums online.