When I was very young, I had the dream of learning how to paint. I had attempted painting with some really cheap watercolors I got from school with mixed success, but I never abandoned the idea that one day I would learn how to paint using "real" paints, namely acrylics and oils. Many years later, I discovered Learn and Master Painting. The course seemed to offer exactly what I desired to learn and I decided to give it a try.
A pleasant surprise for me was that Learn and Master Painting didn't assume any prior artistic knowledge or painting experience, unlike some books and videos I'd come across. For instance, something as simple as how and what to use to clean the oil paints from my brushes was something I had no clue about.
One thing that impressed me about the course was that, although it taught all the basics like how to clean up after projects and how to organize your palette, it quickly took me to a place where I felt like I had sufficient know-how to start working on my own simple paintings. By lesson 3, I'd completed my first painting, and by lesson 6, I'd already started working on a fairly complex still life on actual canvas. Despite the fact that I had just barely picked up the brush, I liked my canvas painting enough to frame it and put it up in my living room.
Features
How the Course is Organized:
The Learn and Master Painting course has 26 lessons contained on the 20 DVDs, which are meant to be worked through sequentially, as new lessons build on the previous ones.
At the beginning of each lesson, Gayle Levee, the instructor, gives a summary of what you'll learn in the lesson, as well as a list of the supplies you'll need. I appreciated the fact that the list came up on the screen, which gave me opportunity to pause the DVD and gather my materials at the start of each lesson.
Each lesson concludes with a "You're ready to move on" session which gives you a list of concepts or techniques which you must have a solid understanding of before continuing on with the next lesson. Each lesson also has an accompanying assignment will need to complete.
Personally, I enjoyed each moment of each session with Gayle. The videos lessons were clear, professional, and gave the techniques, theory, and knowledge that you need to become an accomplished artist. - Review Editor
Lesson Format:
The DVDs in the course are high-quality and have three different camera views. A general, wide landscape view that shows the instructor, her taboret, and her canvas, and a side view of the latter, and close-up views of the canvas, still-life setups, or her palette. Video quality was great, though there was the occasional time that the instructor's arm or hand blocked some of the view. There was also a couple times where I wished the camera would have zoomed in so I could see more clearly what she was talking about. Other times, when the camera did zoom in, it was a very quick shot and I had to pause the video lesson to study what the instructor was doing. In general though, I had very few issues with how the lessons were filmed.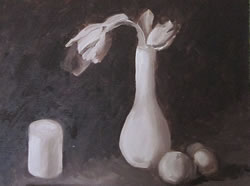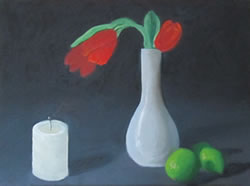 Lessons are divided into chapters, and the lessons range from around 30 minutes to around 2 hours. Since that is a wide range in terms of lesson time, it would've been nice if the length of each lesson would've been printed in the lesson book or on the DVDs so I could better organize my learning time.
There are several great features used in the video lessons that really enhance the course. One is the computer animations that they frequently use to illustrate the differences of the basic colors on the color wheel in terms of hue, value, and chroma. Picture-in-picture is also used to show the subject being painted at the same time as the instructor's painting of the subject. Definitions of art terms and techniques are usually displayed on-screen when a new concept is being presented. This really helped me remember the definitions later on. When explaining color theory or a type of technique, they often illustrate the concepts with pictures of classical art.
The instructor keeps things going with few boring or slow spots in the videos. You don't feel like you have to fast-forward or sit and wait. There's always something to going on. Gayle is always adding her insight and sharing from her artistic experiences which I really benefited from.
Online Community Site:
Another nice feature of Learn and Master Painting is their online community where you can upload pictures of your artwork and get critiques and feedback from other L&M Painting students, and even Gayle Levee herself! You can also ask questions about particular lessons if you want.
Extra Tools and Features:
The course comes with 3 music CDs that you can listen to while you paint, each containing a different genre of music. They are classical, contemporary and soundtrack. Definitely a nice touch.
Also included is the supplemental lesson book. I personally found the book extremely helpful to use as a guide when following along the DVDs, learning extra tips it highlights, and for referring to when I didn't want to watch the lesson over again. The book was professionally put together and contains many colorful pictures and illustrations, a glossary, and much of the material on the DVDs. There is also room for scribbling notes on the side or bottom of the pages.
Support
If you have general questions about the course, you can phone or email customer service at Legacy Learning Systems and get a response within 48 hours.
As mentioned earlier, Learn and Master Painting members have anytime access to a special members-only forum, where you can post questions about your paintings or the lessons themselves.
Ordering Information
When ordering Learn and Master Painting, you can use most major credit cards as well as PayPal. If you are on a slightly tighter budget, they also provide the option to purchase using a "3 equal payments" plan, though there is a nominal administration fee added to the total.
Like all Legacy Learning System's products, Learn and Master Painting includes a 2-month money-back guarantee. If you choose to send the course back for any reason, you'll get 100% of your money back (minus shipping fees). I personally don't believe you'll need to take advantage of that guarantee, but it's always nice to have that security blanket so to speak.
Conclusion
All in all, I really loved this painting course. I found the instructor easy to understand, and here teaching style enjoyable. It was rare that I needed to stop the lessons to "catch up", since she moved at a pace I could easily work alongside. When I did my first serious painting early on in the course, I was nervous about working on an actual canvas. Gayle however, broke everything down into bite-size pieces, and I knew that I could handle it. Gayle took the overwhelming thought of doing a painting in the style of the masters, and made it a doable and enjoyable experience. Although some people might find it redundant how she often reminds the listener to do basic things she's already explained (like wiping your brush clean before you use a new color), I appreciated the reminders. I liked how she explains in great detail what she is doing, why she is doing it, and how she gives extra tips and tricks to make certain techniques easier to master.
From a personal perspective, this course has given me a new appreciation for art. I now look at nature differently and am more aware of the different textures, colors, contrasts, shadows, and lighting in everyday life. I now see a painting or a beautifully decorated room and know why the colors or composition draw me in and why I like it. When I see something beautiful, I want to capture it and portray it on canvas or paper. Now, with the skills that I've learned throughout this course, I now have the ability to do this.
I don't yet consider myself an amazing painter, but thanks to Learn and Master Painting I have a wealth of information and the necessary painting skills to become an accomplished artist. As with any form of art, it takes time, practice, and dedication to become a master, but I feel that Learn and Master Painting gave me a great head start and I highly recommend it!